Ohhhh....check out the super cute editorial and article about my shoes on
WWW.ELLEGIRL.COM
you can read the article and see the photos here on the ELLE GIRL FASHION NEWS
SLIDESHOW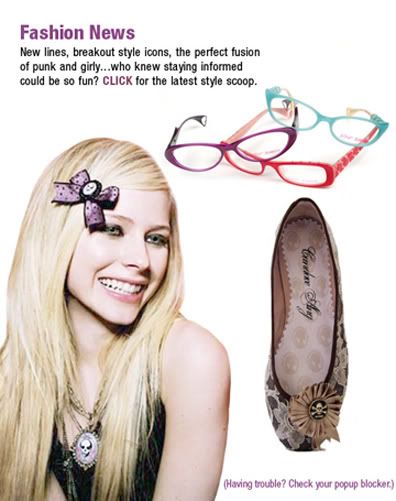 Here is my mini interview and article....
WWW.ELLEGIRL.COM
" When we're in the mood for a punky yet girly cameo necklace, the first name that pops into our heads is Candace Ang. Luckily for us, our necks are no longer the only place we can display Ang's wares. Her latest venture is a line of adorable ballet flats. Feeling romantic? Opt for the French lace version. In the mood to add some sparkle to your wardrobe? Try a pair in soft metallic leather. Not straying too far from her roots, however, Ang's shoes come with a detachable piece of jewelry (pure genius!)
(Candace says) "I was looking at this adorable pair of ballet flats one day, and was longing for one of my Lost Lovers safety pins to be on the front," Ang said. She suggests using the clips to customize other parts of your wardrobe – boots, jackets, and even headbands (thanks for the tip!) The best part? If you buy one pair and five different clips, it'll look like you have five new pairs of shoes. And, hey, what could be better than that!"
"The best outfit to wear with ballet flats? "Anything!" Ang says, suggesting mixing it up with skinny jeans and lace dresses."